VR Concert on New Year's Eve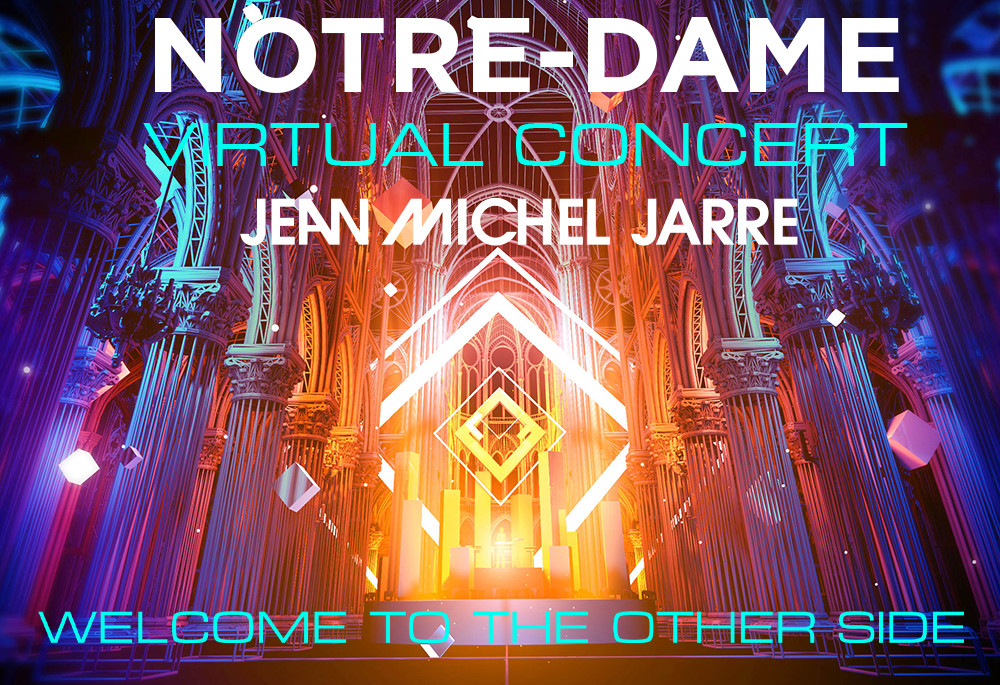 08/12/2020
Via Jean-Michel Jarre Sony Newsletter
Jean-Michel Jarre to perform ground breaking concert in virtual Notre Dame
NOTRE DAME VIRTUALLY
Always surprising and always pioneering Jean-Michel Jarre used his time in lock down to create a virtual spectacular extra ordinary event for all of us to join on New Years Eve. Teaming with the City of Paris & UNESCO Jean-Michel Jarre, based in a studio near the Cathedral, will perform in virtual Notre Dame in a ground breaking 45 minute performance set consisting of pieces from the Electronica World Tour and some brand new versions of versions of his classics, Oxygène and Equinoxe.
The unique visual world created by Jarre in VR will also be the official midnight news image coming from the City of Paris.
The concert "WELCOME TO THE OTHER SIDE - LIVE" will be available on 01.01.2021 0:15am CET on all digital platforms.
How To Join WELCOME TO THE OTHER SIDE on NYE
- In total immersion on the social VR platform VRchat, accessible either simply via PC, or in virtual reality for the audience equipped with VR headsets,
- Live-streaming on Jarre's media platforms via any PC or Mac, smartphone or tablet,
- Architectural 3D Laser scenography on the façade of Notre-Dame Cathedral in city-centre Paris,
- Live audio broadcast on Radio France's France Inter, French public radio,
- Live TV broadcast by French BFM Paris news channel
To follow all the news around the event check
www.jeanmicheljarre.com
or follow JMJ on his socials.
To a better 2021 and WELCOME TO THE OTHER SIDE
Official video:
Discuss this subject
here
.
Discutez de ce sujet
ici
.